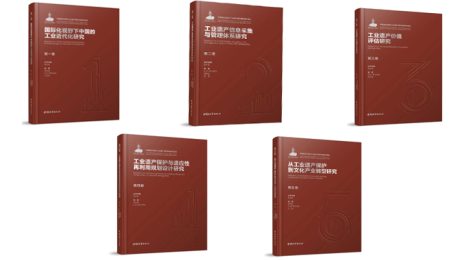 Growing interest in Industrial heritage in China is driving systematic research in the field. The current major study is a series of edited five volumes by Prof. Xu Subin with her research team from Tianjin University in China documenting their work of the past decade.
Comprehensive Research on the Preservation System of Modern Industrial Heritage Sites in China (5 volumes) (《中国城市近现代工业遗产保护体系研究》) published in May 2021 is the outcome of the Chinese National Social Science Major Project "Study on the Protection System of Modern Industrial Heritage in Chinese Cities" (12&ZD230) led by Prof. Xu since 2012. The book series documents one of the most comprehensive and systematic research on conserving China's industrial heritage throughout its life cycle. This series has won the Outstanding Award (the highest award) of the CTTI (China Think Tank Research and Evaluation Center at Nanjing University) for Excellence in Think Tank Research 2022. The five volumes discuss different topics of theory and history of Industrial Heritage in China, heritage survey practice in China, industrial heritage site management, value assessment, and spatial transformation, with extensive case studies focusing on China from a global perspective. The brief introduction for each volume is here (PDF download).
Another series of national-level studies taking a geographical approach to individual province's Industrial Heritage approach is being coordinated by the Chinese Industrial Architectural Heritage Committee.
Dr. Yiping Dong – National Representative, China