The TICCIH Guide to Industrial Heritage Conservation
Call it industrial archaeology, industriekultur, archéologie industrielle, patrimonio industrial, or industrial heritage, we now have for the first time a spirited manual of contemporary international best practices, written for laypeople and preservationists, community groups and private-sector developers, students, teachers and scholars.
—PROFESSOR PATRICK MARTIN, Michigan Technological University and past TICCIH President
---
---
The book is also available from retail and online book sellers. It is available in print or ebook format from the publishers at the link below.
https://www.taylorfrancis.com/books/mono/10.4324/9781315426532/industrial-heritage-re-tooled-james-douet
---
Contents
Introduction James Douet 1
Part I Values and meanings
1 Why preserve the industrial heritage? Neil Cossons 6
2 What does the Industrial Revolution signify? Helmuth Albrecht 17
3 Industrial archaeology: a discipline? Barrie Trinder 24
4 The heritage of the industrial society Louis Bergeron 31
Part II Understanding the evidence
5 Industrial archaeology Patrick Martin 40
6 Identifying industrial landscapes Iain Stuart 48
7 Recording and documentation Miles Oglethorpe and Miriam McDonald 55
8 Process recording Gustav Rossnes 63
9 Industrial archives and company records Belem Oviedo Gámez 70
10 Photography and image resources Jan af Geijerstam 77
Part III Realising the potential
11 Choosing what to preserve Paul Smith 86
12 Legal protection Keith Falconer 94
13 Urban regeneration and planning Massimo Preite 101
14 Adaptive re-use Benjamin Fragner 110
15 Financial and fiscal incentives Bode Morin 118
16 Heritage at risk surveys Jaime Migone 
17 Conservation plans Helen Lardner 129
18 Adaptive re-use and embodied energy Mark Watson 136
19 Post-industrial landscapes Norbert Tempel 142
20 Industrial ruins Masaaki Okada 149
21 Conservation and community consciousness Hsiao-Wei Lin 155
22 Industrial Heritage and the World Heritage Convention Peter Stott 161
23 World Heritage, concepts and criteria Michel Cotte 167
24 Thematic World Heritage Studies Stephen Hughes 174
Part IV Sharing and enjoying
25 Industrial museums Massimo Negri 182
26 Care of industrial and technical collections Johannes Großewinkelmann 188
27 Conserving industrial artefacts Eusebi Casanelles and James Douet 195
28 Industrial heritage tourism Wolfgang Ebert 201
Part V Teaching and learning
29 Teaching in schools Gràcia Dorel-Ferré 208
30 University training Györgyi Németh 211
31 Distance and on-line learning Tuija Mikkonen 216
Part VI TICCIH
32 The work of TICCIH Stuart B Smith 222
33 TICCIH's Charter for Industrial Heritage Eusebi Casanelles 228
Appendix: The Nizhny Tagil Charter for the Industrial Heritage 233
Index 239
List of Contributors 
Professor Helmuth Albrecht is head of industrial archaeology and the history of technology and director of the Institute for Industrial Archaeology, History of Science and Technology in Freiberg, Germany. Since 2006, he has been a member of the board of directors of TICCIH and organised the XIV TICCIH Congress in 2009 in Freiberg. His research interests include the industrial archaeology of Germany, world heritage studies as well as the history of technology, of physical sciences and of innovation processes.
Professor Louis Bergeron taught as Directeur d'études at the École des Hautes Études en Sciences Sociales, Paris, from 1971 to 1997. Honorary president of the French National Association for Industrial Archaeology and Heritage (CILAC) and President (1990–2000), Honorary President for life (2000) of TICCIH. He was President of the Eco-museum in Le Creusot-Montceau les Mines (France), 1996–2004, co-founder of Koinetwork e.g.e.i., 2002 and co-publisher of the TICCIH Journal Patrimoine de l'industrie/Industrial Patrimony. His research interests cover the industrialization of Europe in the eighteenth and nineteenth centuries.
Eusebi Casanelles is the founder and director of the Museu Nacional de la Ciència i de la Tècnica de Catalunya (MNACTEC), the Catalan national museum of science and technology. It was set up in 1984 and has developed into a network of over 25 industrial museums, each one dealing with a distinct industrial and technical topic. He was first Executive President and then President of TICCIH from 1997 until 2009 and president of the Spanish Association of Industrial Heritage from 1987 until 1992.
Sir Neil Cossons has been engaged in industrial heritage and archaeology for over fifty years and is a founder of TICCIH. He was the first Director of the Ironbridge Museum, from 1971 to 1983 and Director of the Science Museum, London – the National Museum of Science & Industry – for fourteen years. From 2000 to 2007 he was Chairman of English Heritage, the United Kingdom Government's principal adviser on the historic environment of England.
Professor Michel Cotte is emeritus professor of the history of technology at the University of Nantes. He currently works as ICOMOS' advisor for the implementation of the World Heritage Convention. He pays specific attention to the technical and scientific heritage, editing recently with Clive Ruggles (UAI) a joint thematic study: Heritage Sites of Astronomy and Archaeoastronomy in the context of the UNESCO World Heritage Convention.
Professor Gràcia Dorel-Ferré is a professor of the history of industry and teaching industrial archaeology. She is the founder and president of the Association pour le patrimoine industriel de Champagne-Ardenne (APIC), France. After her thesis on the industrial colonies of Catalonia her main research interests have been the evolution of workers' housing and industrial settlements. Her publications include 'La contribution des indianos à la formation du territoire et du paysage industriel catalans durant la seconde moitié du XIX siècle', and Atlas du patrimoine industriel de Champagne-Ardenne. She is secretary of the TICCIH agricultural industry section and organiser of several TICCIH section conferences.
James Douet is a historic buildings consultant advising on conservation plans and exhibition projects, and editor of the TICCIH Bulletin. He trained in geography and industrial archaeology, and undertook various thematic studies for English Heritage including naval dockyards, pumping stations and military barracks, from which came his principal publication, British Barracks, 1600–1914. He teaches heritage management and urban history in Barcelona and is researching a publication on royal manufactories.
Dr Wolfgang Ebert was the developer of the European Route of Industrial Heritage (ERIH) industrial heritage networks. He is Senior Consultant to MSP Impulsprojekt, a German developing agency dealing with any kind of developments of industrial heritage sites on a global level.
Keith Falconer was appointed in 1971 to undertake the British Industrial Monuments Survey and became Head of Industrial Archaeology at English Heritage, with general oversight for industrial heritage and helped develop a thematic approach to the UK's industrial World Heritage Sites. He has advised on World Heritage Site proposals in Japan, northern France and Uruguay. He is a founder member of TICCIH and a founder council member of the UK Association for Industrial Archaeology. He has co-authored several books including Guide to England's Industrial Heritage (1980), Swindon: Legacy of a Railway Town (1995) Ancoats: cradle of industrialization (2011).
Dr Benjamin Fragner has been the director of the Research Centre for Industrial Heritage (VCPD) at the Faculty of Architecture of the Czech Technical University in Prague since 2002. He is a member of the Czech Ministry of Culture's Permanent Committee for the assessment of sites nominated for cultural heritage status. He is currently coordinating a research project on the Industrial Topography of the Czech Republic – Adaptive Re-use of Industrial Heritage, as Part of National and Cultural Identity, and also organises the popular international biennial Vestiges of Industry. He is a member of the executive board of the Czech National Committee of ICOMOS and TICCIH Board member since 2009.
Dr Jan af Geijerstam (Industrial Heritage studies, Royal Institute of Technology. Stockholm, Sweden) is an independent researcher and author. Chairman of the Swedish Industrial Heritage Association and TICCIH's National Representative for Sweden. Presently guest researcher at Heritage Studies, Dept of Conservation, University of Gothenburg. His most recent publication is National Atlas of Sweden. Swedish mining and metalworking, past and present (edited with Marie Nisser).
Johannes Grossewinkelmann is curator at the Weltkulturerbe Erzbergwerk Rammelsberg in Goslar, Germany. He has worked at various German industry museums and has published papers on the treatment of collected objects and on the history of vocational education in the German metals industries in the nineteenth and twentieth centuries.
Stephen Hughes is Projects Director at the Royal Commission on the Ancient & Historical Monuments for Wales and Vice-President of ICOMOS-UK. He co-ordinated the TICCIH/ICOMOS International Canal Monuments List and The International Collieries Study and is a member of the TICCIH Board. He has advised ICOMOS on World Heritage Sites and has represented TICCIH at UNESCO Meetings. His books include Copperopolis: Landscapes of the Early Industrial Period in Swansea; The Archaeology of an Early Railway System: The Brecon Forest Tramroads and The Archaeology of the Montgomeryshire Canal: A Guide and Study in Waterways Archaeology.
Dr Helen Lardner , architect, is the director of the award-winning heritage conservation firm HLCD Pty Ltd which specialises in providing strategic advice for conservation and adaptive re-use of complex heritage places and undertaking analysis of cultural significance. She is particularly interested in industrial sites and twentieth-century architecture, works internationally and enjoys examining the transfer of technology and knowledge, and its impact on local cultures. She is a member of the Australian Heritage Council, was formerly Vice President of Australia ICOMOS and is currently the National Representative for TICCIH in Australia.
Dr Hsiao-Wei Lin is an assistant professor of architecture at Chung Yuan Christian University. She is a board member of TICCIH and the chairman of the organising committee of the XV TICCIH Congress 2012 in Taiwan. She researches as well as advises practical heritage sites. Her most recent publication is The Introduction of Taiwan's Industrial Heritage which is the first English text book of this subject in Taiwan. Her research interests include planning, reuse and management of cultural heritage, cultural landscape and industrial heritage.
Professor Patrick Martin is Professor of Archaeology and Director of Graduate Studies in the Department of Social Sciences at Michigan State University, US. He is editor of IA, the Journal of the Society for Industrial Archaeology, and the Executive Secretary of that organisation. He has been president of TICCIH since 2009.
Miriam McDonald is Industrial Survey Project Manager at the Royal Commission on the Ancient and Historical Monuments of Scotland, the body responsible for recording and maintaining records of Scotland's historic environment. She is secretary both of TICCIH GB, and of the Scottish Industrial Archaeology Panel.
Dr Jaime Migone Rettig , architect, at the Pontifical Catholic University of Chile, Doctor in the Conservation of Architectural Goods, Politecnico di Milan, Italy. Dean, Faculty of Cultural Heritage Studies of the SEK International University and President TICCIH-Chile. He has advised on the UNESCO World Heritage Centre Humberstone and Santa Laura in Chile and the nomination of San Luis Potosi in Mexico, with national and international publications. Heritage buildings restoration projects include cathedral of Santiago, Santiago Post Office, Chilean Historic and Military Museum, Sacramentino Church of Santiago, among others.
Dr Tuija Mikkonen is senior adviser at the Ministry of the Environment, in Helsinki, Finland, with issues concerning the built heritage and cultural environment. She is the chair of TICCIH-Finland and has advised ICOMOS in assessing industrial World Heritage Sites. Her research interests include industrial buildings and sites and mining industry. She has written about corporate architecture in Finland in the 1940s and 1950s.
Dr Bode Morin is the director of Eckley Miners' Village, an historic coal-mining site operated by the Pennsylvania Historic and Museum Commission, and has nearly twenty years' experience in the heritage field. He holds the first Ph.D. in industrial heritage and archaeology from Michigan Technological University, where his work focused on industrial heritage practices and conflicts with environmental remediation at US Superfund sites. He also has a masters degree in Industrial Archaeology from Michigan Tech. and has worked as an historian for the Historic American Engineering Record of the US National Park Service, curator of Sloss Furnaces in Birmingham, Alabama, and as Historic Fort Wayne project manager for the Detroit Historical Museum.
Massimo Negri was the co-author of the first book published in Italy about industrial archaeology (1978). Founding member of the Italian Society for Industrial Archaeology and then of the Italian Association for the Archaeological Industrial Patrimony (AIPAI). He teaches museology at the Master Course in Industrial Heritage, and industrial archaeology at the TPTI course both at the State University of Padua. He has also founded the Executive Master Course in European Museology at the IULM University of Milan. Director of the European Museum Forum (UK) for ten years, he is currently director of the European Museum Academy Foundation (NL). Frequently engaged in museum projects, has recently directed the museological program of the new Museum of the History of Bologna.
Professor Györgyi Németh is associate professor in industrial history and industrial archaeology at the University of Miskolc, Hungary, where she developed the country's first industrial archaeology university programme. She was a member of the TICCIH board between 1993 and 2009, and organised the 1999 regional TICCIH conference in Hungary and Slovakia. Her research interests include the theory and practice of industrial heritage conservation as well as the evolution of heavy industrial landscapes, publishing Growth, Decline and Recovery: heavy industrial regions in transition.
Dr Miles Oglethorpe is Head of International Policy at Historic Scotland, the Scottish Government Agency responsible for protecting and promoting the historic environment. He has been a board member of TICCIH since 2003.
Professor Masaaki Okada is associate professor at Kinki University, Department of Civil and Environmental Engineering, Osaka, and visiting scholar at the University of Cambridge. He is interested in social and aesthetic value of Technoscape (landscape of industry), industrial, civil engineering and defence heritage. He is on the executive committee of ICOHTEC and member of many committees of academic (JSCE) or national and local governments in Japan. His recent publications are Technoscape – Landscape Theory of Integration and Estrangement (Kajimashuppankai 2003) and Civil Engineering Heritage in Japan (Kodansha, 2012: co-authorship).
Belem Oviedo Gamez is director of the Archivo Histórico y Museo de la Minería de Pachuca, Mexico, TICCIH Mexico President (2006–2012) and ICOMOS Mexicano National Vice President (2012–2015). She was elected to the TICCIH Board in 2000.
Professor Massimo Preite teaches urban planning at the Faculty of Architecture in Florence, Vice-Chairman of the Italian Association for the Industrial Archaeological Heritage (AIPAI), board member of TICCIH. He has coordinated numerous projects for the redevelopment of the mining and industrial heritage, the Park/Mining Museum of Abbadia San Salvatore, the National Mining Park of the Colline Metallifere and the new Steel-Working Museum in Piombino. He advised on the nomination of mining and industrial sites as a UNESCO World Heritage Site. His most recent publications are Paesaggi industriali del Novecento (Florence, 2006) and Masterplan, the Development of the Mining Landscape (Florence, 2009).
Gustav Rossnes trained as an ethnologist and works as senior adviser on Industrial Heritage at the Norwegian Directorate for Cultural Heritage. He has taken part on several field works in Polar areas – documenting mining installations in the Arctic (Svalbard) and shore whaling stations in the South Antarctic Islands.
Dr Paul Smith is an historian who has been working since 1986 at the Direction générale des Patrimoines, the heritage department of the French Ministry of Culture, with a particular interest in the industrial heritage and in the built heritage of transport systems. He has been involved in several European projects, for example on historic airports and on the future of historic industrial cities ('Working Heritage'). He has published widely on the French tobacco and match industries and is a member of the editorial committee of the French industrial archaeology review.
Stuart Smith OBE was Secretary of TICCIH for 26 years and has attended every General Assembly. Starting at Ironbridge in 1972 as Curator of Technology, he succeeded Neil Cossons as Director and worked there for 20 years. Subsequently he moved to Cornwall to head The Trevithick Trust, which was charged with restoring and creating industrial museums throughout the county to support the successful application for World Heritage Site status for Cornish hard rock mining. He has lectured all over the world on industrial archaeology and TICCIH and since retirement has acted as a consultant on potential world heritage sites, particularly in Asia and Norway.
Peter Stott , the US representative to TICCIH, was a staff member of the UNESCO World Heritage Centre in Paris between 1996 and 2006. Most recently, for the 50th anniversary of the US National Park Service's Office of International Affairs, he has been engaged in the preparation of a history of the National Park Service and the World Heritage Convention, being published serially in 2011 and 2012 in the George Wright Forum. He is currently a Preservation Planner at the Massachusetts Historical Commission in Boston, US.
Iain Stuart is an archaeologist and historian based in south-eastern Australia. His company, JCIS Consultants, provides professional consulting services in the areas of history, archaeology, heritage management and cultural landscapes.
Norbert Tempel trained as a mechanical engineer (Dortmund University of Technology), and is Head of the Engineering and Conservation Department, Westphalian Museum of Industry, Dortmund, the largest museum of industry in Germany managing eight former industrial sites, since 1986. Co-Founder (1995) and Associate Editor of the quarterly IndustrieKultur Magazine. Research, publications and lectures in the field of conservation of big industrial sites and the history of railways. Member of TICCIH and ICOMOS (Member of the Scientific Committee of ISC 20C), National Representative of TICCIH Germany. Co-organiser of the international conferences BigStuff 2007 and TICCIH 2009 in Germany.
Dr Barrie Trinder was closely involved with the Ironbridge Gorge Museum in its formative years, was joint organiser with Neil Cossons of FICCIM in 1973, and taught at the Ironbridge Institute between 1980 and 1995. He has written extensively on the history of industry in Shropshire and nationally, edited the Blackwell Encyclopedia of Industrial Archaeology (1992), and contributed substantially to the designation documents for the World Heritage Sites at Ironbridge, Blaenafon and Pontcysyllte. His large-scale study, Britain's Industrial Revolution: the making of a manufacturing people, will be published by Carnegie Publishing in 2012.
Mark Watson is a buildings and areas conservation professional, experienced in urban regeneration projects, delivering the adaptive re-use of buildings in partnership with others, and evaluating outcomes with a view to their socio-economic and sustainability benefits. Trained in history and in industrial archaeology, he works in Historic Scotland, the government agency for heritage conservation. He has worked on the nomination, assessment and management of world heritage sites, and is British national representative for TICCIH. His research interests include textile mills and landscapes – drafting the international comparative study of these – iron building structures, and impact evaluation.
---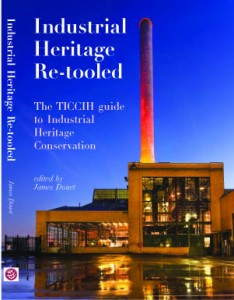 Click on the cover to download PDF preview of the table of contents and publication details.