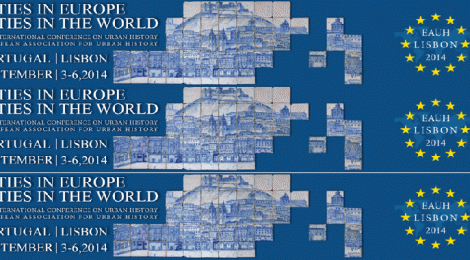 PORTUGAL 3 Sept 2014 – 6 Sept 2014
Cities in Europe, Cities in the world.
3 Sept 2014 – 6 Sept 2014
12th International Conference of the European Association for Urban History, Lisbon. Main session (M40) focused on Industrial Cities from the 19th and 20th Centuries and Heritage Conservation.
Call for Papers
Conference Website:
http://www.eauh2014.fcsh.unl.pt/index.php?conference=conference&schedConf=index&page=pages&op=view&path[]=7
EAUH 2014 welcomes presentations to conference sessions (see conference sessions)
Presentations will be arranged within the following session types:
Main Sessions (up to 8 papers);
Specialist Sessions (up to 4 papers);
Round Tables.
Paper proposal
To submit a paper proposal, registration is required (here). If you have already create an account in this website, please log in (here) and add a new submission.
A paper proposal for presentation at the conference should be submitted in the form of an abstract only (not to exceed 300 words).
Start of paper proposals submission: May 15, 2013
Deadline for paper proposals submission: October 15, 2013
Notification of paper acceptance: December 15, 2013
Important: Paper proposals and full texts can only by submitted online, via the EAUH2014 website. If sent by post or email will not be accepted.
Paper submission
The authors of the paper proposals that have been accepted by the session organisers will be invited to submit the full text (appr.7-14 pages), for inclusion on the USB stick distributed to all the participants of the conference.
Deadline for full text submissions: July 1, 2014
Important: Full texts can only by submitted online, via the EAUH2014 website, if sent by post or email will not be accepted