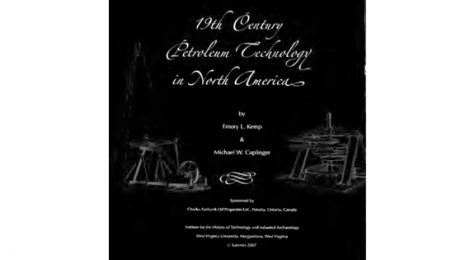 19th Century Petroleum Technology in North America 
(2007) by Emory L. Kemp and Michael W. Caplinger is available online to be downloaded as a PDF.
ABSTRACT
The Appalachian and the Ontario oil fields in Canada were the earliest developed oil fields on the continent. Appalachia dominated national oil production in the United States until about 1900, when the midwest and southwest fields suddenly began producing prodigious quantities of oil and quickly out-paced the eastern oil region. Therefore, the eastern oil fields and the 19th century equipment and techniques employed there represent a period of the modern oil industry very different from the new methods and equipment used after about 1900. These two factors combine to make a convenient cutoff point for a contextual discussion of early drilling and pumping technology. The Historic American Engineering Record and the Institute for the History of Technology and Industrial Archaeology's previous work on the subject (the Volcano Oil Field documentation, the Allegheny National Forest Oil Heritage Project, the Kanawha Valley Salt Industry Documentation Project, and Canada's Petrolia Oil Field Project) provides the foundation for this illustrated monograph
focusing on early oil well drilling, pumping, refining, storage, and transport techniques and equipment.
This monograph traces the development of rod and cable-tool drilling techniques from antecedents in the salt industry (ca. 1820), to Drake's Well and early Canadian efforts, to the perfection of cable-tool drilling in the latter 19th century. Likewise, the history of central power oil-pumping technology will be traced from the prototype systems used at Volcano and Petrolia (ca. 1860), to the mature central power pumping technology used in the Allegheny National Forest (ca. 1900). While pumping through central power systems will be a focus, single-well pumping (or pumping on the beam) will also be discussed in depth.