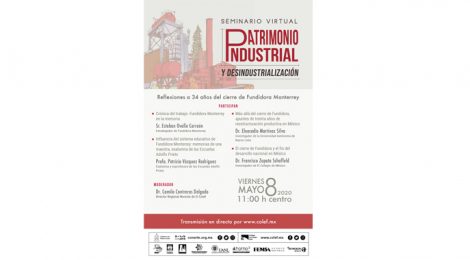 Apreciables colegas / Dear colleagues:
Reciban un afectuoso saludo y los mejores deseos para ustedes y sus familias ante la actual situación sanitaria. A pesar de que tuvimos que posponer nuestro Congreso en Monterrey, Nuevo León sobre Patrimonio Industrial por la contingencia de salud, no bajamos el interés en el tema y, por el contrario con las posibilidades que nos brinda la tecnología organizamos un webinar. Este seminario tiene el objetivo de conmemorar el cierre de una de las plantas siderúrgicas más importantes del norte de México: Fundidora de Monterrey.
Best wishes to you and your families for the current health situation. Although we had to postpone our Congress in Monterrey, Nuevo León on Industrial Heritage due to the health contingency, we did not lower the interest in the topic and, on the contrary, with the possibilities that technology offers us, we organized a webinar. The objective of this seminar is to commemorate the closure of one of the most important steel plants in northern Mexico: Fundidora de Monterrey.
La particularidad del seminario es la participación de dos protagonistas directamente vinculados a la planta: Un ex-obrero y una ex-Profesora de las escuelas propiedad de la empresa. Además contaremos con la intervención de dos destacados profesores quienes nos mostrarán qué estaba sucediendo en el contexto nacional e internacional mientras se consumaba el cierre de la planta acerera.
The particularity of the seminar is the participation of two protagonists directly linked to the plant: A former worker and a former teacher of the schools owned by the company. We will also have the participation of two outstanding professors who will show us what was happening in the national and international context while the closing of the steel plant was taking place.
El seminario puede seguirse en vivo el viernes 8 de mayo a partir de las 11:00 horas (huso horario del centro de México), en la liga que aparece abajo / The seminar can be followed live on Friday, May 8th from 11:00 am (Central Mexico Time Zone), in the link below: 
https://www.colef.mx/evento/patrimonio-industrial-y-desindustrializacion-reflexiones-a-34-anos-del-cierre-de-fundidora-monterrey/?fbclid=IwAR1hT9pxSZfY9dRvIwGUxZEEyQaH3DYRnZNyFxbLWgm56JiE78hGiUHY2AA
Posteriormente será posible ver la sesión en el canal Youtube de El Colef / Afterwards it will be possible to see the session in the Youtube channel of El Colef:
https://www.youtube.com/channel/UC_lys0-M4m133GRU8Kl1lBQ