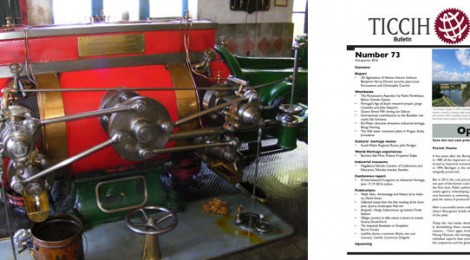 Image above: The 125 HP stationary steam engine in the gunpowder factory at Vale de Milhaços, Corroios, Seixal, Portugal, built by Joseph Farcot, St. Ouen, Paris, 1900,
construction nº 2085
TICCIH Bulletin No. 73 – 2nd quarter, 2016 published and its link sent to all TICCIH current members on July 20, 2016. To receive the link of the complete bulletin join or renew your TICCIH membership for 2016.
Table of Contents:
Contents
Report
•
3D digitisation of Nantes historic harbour, Benjamin Hervy, Florent Laroche, Jean-Louis Kerouanton and Christophe Courtin
Worldwide
•
The Renaissance Aqueduct by Padre Tembleque, Belem Oviedo Gámez
•
Portugal's Age of Steam research project, Jorge Custódio and João Sequeira
•
Queen Street Mill closing, Ian Gibson
•
International contributions to the Brazilian railroads, Taís Schiavon
•
EU Water directive threatens industrial heritage, Bengt Norling
•
The Old water treatment plant in Prague, Sarka Jirouskova
Cultural heritage routes
•
South Wales Regional Route, John Rodger
World Heritage experiences
•
Bochnia Salt Mine, Poland, Krzysztof Zięba
Industrial museums
•
Magdalena Tafvelin, Curator of Collections and Education, Tekniska museet, Sweden
Conference report
•
III International Congress on Industrial Heritage, June 17-19 2016, Lisbon
Publications
•
Welsh Slate – Archaeology and History of an Industry, David Gwyn
•
Collected essays from the first meeting of the European Quarry Landscapes Network
•
Bergverk i Norge. Kulturminner og historie, Frode Sæland
•
Villages ouvriers et villes usines à travers le monde, Gracia Dorel-Ferré
•
The Industrial Revolution in Shropshire, Barrie Trinder
•
Ladrillos, fierros y memoria (Bricks, iron, and memory), Camilo Contreras Delgado
Upcoming
---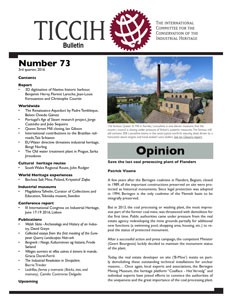 Click on image above to load pdf of cover page of bulletin