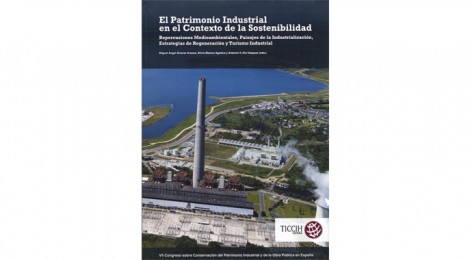 FROM URBAN TO LANDSCAPE REGENERATION: NEW ROLES FOR THE INDUSTRIAL HERITAGE
---
The seventh congress of TICCIH España was held 5-8 July in Coruña, Spain. Below is the introduction to the Congress report by Massimo Preite of the University of Florence, TICCIH Board member.
---
The seventh Congress of TICCIH España was an exceptional opportunity to deepen exploration of some of the key issues of the international debate on industrial heritage. From contributions of the experts invited to participate, new research lines will surely emerge that will further develop the work of the next TICCIH Congress that will take place in 2018 in Santiago de Chile.
The four thematic areas of the TICCIH España Conference—Environmental Impact, Landscape Reclamation, Territorial Regeneration and Industrial Tourism—are the areas of research where industrial heritage enhancement policies have recorded the highest degree of innovation. Principles of intervention and methodological criteria have been subject to profound practical and theoretical review.
This disciplinary renewal represents the answer to the new problems that the management of industrial heritage meets today on each of the thematic areas addressed by the conference:
The environmental impact of past industry must be reconciled, unlike what was happening until a few years ago, with the safeguarding of the material evidence of manufacturing and mining activities; the dilemma between reclamation of industrial sites and the conservation of contaminated physical structures thus becomes one of the greatest challenges for those who care about the future of industrial heritage;
The reflection on the landscape, and in particular the landscape of production, has monopolized in recent years the attention of experts and researchers of industrial heritage; the challenge has been to develop projects and intervention programs that can reconcile two opposite needs, those of conservation and transformation;
The modern industrial regeneration policies are an expression of this change in the nature of industrial recovery policies, a change that can be defined as the transition from the Urban Clearance to the Regeneration through Heritage (which recognizes the survival of industrial artefacts as a cultural heritage value); It should also be pointed out that urban and territorial regeneration policies after the 1980s have revealed new patterns of governance and new forms of partnership between public and private actors requiring a rethinking of the more traditional urban planning practices;
The valorisation of industrial heritage has seen in recent years its utmost consecration with the inclusion of an increasing number of industrial sites on the World Heritage List; TICCIH has been particularly committed to this task through enhanced cooperation with ICOMOS and the elaboration of new documents such as the Dublin Principles Charter and the Memorandum of Understanding to give greater emphasis to its action in support of greater representation of the industrial heritage in the UNESCO List.
At the seventh Congress of TICCIH España each of these issues was examined through the presentation of specific experiences that can highlight an original approach to solving these new problems.