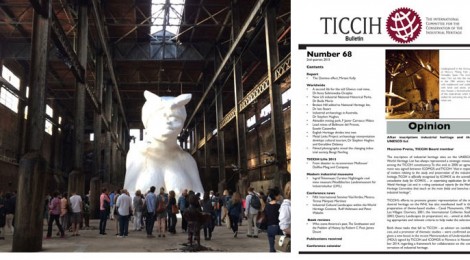 Photograph above: Kara Walker's 'A Subtlety, or the Marvelous Sugar Baby' commissioned by Creative Time and staged inside Domino's sugar packing hall immediately prior to its demolition. (Photo Credit: Miriam Kelly)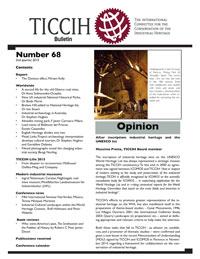 TICCIH Bulletin 68, 2nd quarter, 2015 has been published and its link sent to all current 2014 & 2015 TICCIH members. (click on image above to read page 1 cover and  page 25 Calendar

Join or renew and receive the link to this bulletin and the last 3 bulletins published as well
---
Contents
Report
The Domino effect, Miriam Kelly Worldwide
A second life for the old Gliwice coal mine, Dr Anna Sulimowska-Ociepka
New US industrial National Historical Parks, Dr Bode Morin
Broken Hill added to National Heritage list, Dr Iain Stuart
Industrial archaeology in Australia, Dr Stephen Hughes
Almadén mining park, F Javier Carrasco Milara
Lead mines of Bellmunt del Priorat, Eusebi Casanelles
English Heritage divides into two
Metal Links Project: archaeology interpretation develops cultural tourism, Dr Stephen Hughes and Geraldine Delaney
Filmed photographs reveal the changing industrial society, Bengt Norling
TICCIH Lille 2015
From disaster to reconversion: Mulhouse' Dollfus-Mieg and Company
Modern industrial museums
Ingrid Telsemeyer, Curator, Nightingale coal mine museum, Westfälisches Landesmuseum für Industriekultur (LWL)
Conference news
Fifth International Seminar Vías Verdes, Mexico, Teresa Márquez Martínez
Industrial Cultural Landscapes within the World Heritage Context, Rolf Höhmann and Peter Wakelin
Book reviews
Who owns America's past, The Smithsonian and the Problem of History, by Robert C Post. James Douet
Publications received
Conference calendar
---
Join or renew and receive the link to this bulletin and the last 3 bulletins published as well.
Note to TICCIH members: Not sure if you paid your 2015 dues ? You can check the online TICCIH membership directory for your membership paid status up through the year shown in the parentheses, last updated as of 06/14/2015.
Note to 2014 members.. this is the last bulletin you will receive unless you rejoin for 2015.
Please let us know if you paid your 2015 TICCIH dues but did not receive the link to Bulletin 68. We will send you the link to the Bulletin. Please supply us with the MTU web pay or paypal UK 2015 dues payment transaction number and date of transaction so we can track down the missing information. If you paid by direct deposit from your bank account to our bank account, please send the transaction number, total amount paid, bank and date of the transaction. Please send your transaction information and request to ticcih@mtu.edu.Thank you for your membership and support of TICCIH.