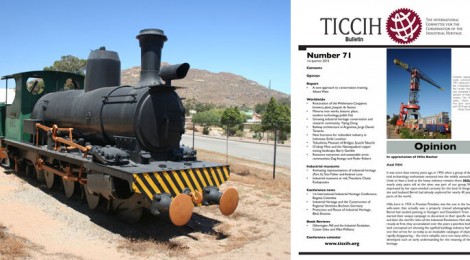 Image above from Bulletin 71.. left image: "Clara, the last of the Kitson-type mountain locomotives used by the Cape Copper Company from 1893 to 1941. Mules, and steam traction, were
used from the outset, steam being withdrawn in 1876, reintroduced in 1886 and taking over the whole route in 1893 – Photo: B Gamble.)
---
TICCIH Bulletin No. 71 – 1st quarter, 2016 published and its link sent to all TICCIH current members on February 4, 2016.
Click on image above to load pdf of cover page of bulletin
To receive the link of the complete bulletin join or renew your TICCIH membership for 2016.
Table of Contents
Opinion
Report
A new approach to conservation training,
Alison Wain
Worldwide
Restoration of the Wielemans-Ceuppens brewery plant, Joaquín de Santos
Minerva iron works, historic place, modern technology, Judith Fait
Growing industrial heritage conservation and research community, Yiping Dong
Railway architecture in Argentina, Jorge Daniel Tartarini
New functions for redundant industry in Indonesia, Emile Leushuis
Tokushima, Museum of Bridges, Syuichi Takeichi
O'okiep Mine and the Namaqualand copper mining landscape, Barry Gamble
Resource extraction and sustainable arctic communities, Dag Avango and Peder Robert
Industrial museums
Animating representations of industrial heritage (Part II), Tom Fisher and Andrew Love
Industrial museums at risk,Theodora Chatzi Rodopoulou
Conference news
1st International Industrial Heritage Conference, Bogotà, Colombia
Industrial Heritage and the Construction of Regional Identities, Bochum, Germany
Protection and Reuse of Industrial Heritage, Bled, Slovenia
Book Reviews
Ditherington Mill and the Industrial Revolution, Colum Giles and Mike Williams
Conference calendar