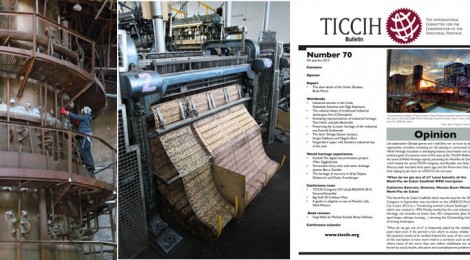 Images above from Bulletin 70.. left image: "The study of the blast furnace at the abandoned Staroutkinsky ironworks (Russia)" photograph provided by Nadezhda Solonina and Olga Shipitsyna. Middle image: "Jacquard cards that control the movement of the threads in the Leavers Machine", (UK) Cluny Lace, 2013. (photo: Julie Botticello)
---
TICCIH Bulletin No. 70 – 4th quarter, 2015 published and its link sent to all TICCIH current members on November 11, 2015.
Click on image above to load pdf of cover page and calendar page of bulletin
To receive the link of the complete bulletin join or renew your TICCIH membership for 2016.
Table of Contents
Opinion: 'What do we get out of it?' Local benefits of the Nord-Pas de Calais Coalfield WHS inscription, Catherine Bertram, Director, Mission Basin Minier Nord-Pas de Calais
Report: The slow death of the Huber Breaker, Bode Morin
Worldwide * Industrial tourism in the Urals, Nadezhda Solonina and Olga Shipitsyna * The cultural values of traditional industrial landscapes, Vera D Damayanti * Animating representations of industrial heritage, Tom Fisher and Julie Botticello * Preserving the acoustic heritage of the industrial era, Konrad Gutkowski * The Izmir 'Design Station' project, Sergio Taddonio and Nagme Ebru * Fengersfors' paper mill, Sweden's industrial site of the year
World heritage experiences * Scottish Ten digital documentation project Miles Ogglethorpe * Tarnowskie Gory mine and water drainage system, Barry Gamble * The heritage of mercury in Idrija, Tatjana Dizdarevic; and Dusan Kramberger
Conference news * TICCIH Congress XIV LILLE-REGION 2015, General Assembly * Big Stuff 2015, Alison Wain * A guide to adaptive re-use in Moulins, Lille, Mark Watson
Book reviews * Forge Work, by Michael Schultz, Betsy Fahlman,
Conference calendar