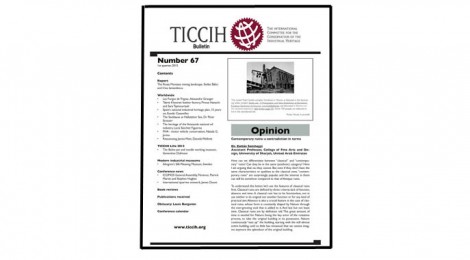 TICCIH Bulletin 67, 1st quarter, 2015 has been published and sent to all current 2014 & 2015 TICCIH members on February 23, 2015.
Note to TICCIH members: Not sure if you paid your 2015 dues ? You can check the online TICCIH membership directory for your membership paid status up through the year shown in the parentheses, last updated as of 02/19/2015.
Please let us know if you paid your 2015 TICCIH dues but did not receive the link to Bulletin 67. We will send you the link to the Bulletin. Please supply us with the MTU web pay or paypal UK 2015 dues payment transaction number and date of transaction so we can track down the missing information. If you paid by direct deposit from your bank account to our bank account, please send the transaction number, total amount paid, bank and date of the transaction. Please send your transaction information and request to ticcih@mtu.edu.Thank you for your membership and support of TICCIH.
PDF of front cover and calendar page
Contents of Bulletin:
Opinion: Contemporary ruins: a contradiction in terms Dr. Zoltán Somhegyi
Report
The Rosia Montana mining landscape, Stefan Bâlici and Irina Iamandescu
Worldwide
Les Forges de Trignac, Alexandre Granger
Tabriz Khosravi leather factory, Pirouz Hanachi and Sara Taymourtash
Spain's national industrial heritage plan, 15 years on, Eusebi Casanelles
The Seeklause at Hallstätter See, Dr Peter Strasser
The heritage of the Venezuela national oil industry, Lucía Sánchez Figueroa
FIVA – motor vehicle conservation, Natasa G. Jerina * Reassessing James Watt, Daniela Wellnitz
TICCIH Lille 2015
The Bohin pin and needle working museum, Geneviève Dufresne
Modern industrial museums
Almgren's Silk Weaving Museum, Sweden
Conference news
ICOMOS General Assembly, Florence, Patrick Martin and Stephen Hughes
International quarries network, James Douet
Book reviews
Publications received
Obituary: Louis Bergeron
Conference calendar
---