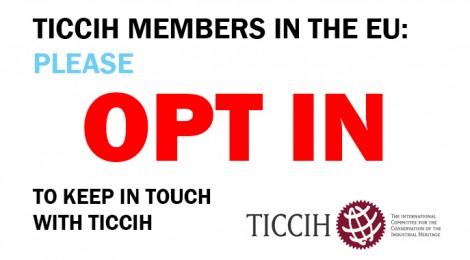 TICCIH Colleagues in the European Union . . .
In order to comply with the European Union's new General Data Protection Law, WE NEED YOUR PERMISSION TO STAY IN TOUCH – even if you're a long-term supporter or you've given us permission before.
IF YOU DON'T OPT IN TO HEAR FROM US, YOU MAY GET LEFT OUT – Please agree to stay in touch with TICCIH using the automated form below:
If you prefer, you may also submit your opt-in via email. Send your name and the following message to ticcih@mtu.edu:
"Yes please, I am happy to hear from you. Please keep me connected with TICCIH via email."
Please include "GDPR Opt-In" in the subject line.
At any time you can change your mind whether to receive information from TICCIH.
---
A MESSAGE ABOUT TICCIH AND YOUR PERSONAL DATA:
The International Committee for the Conservation of Industrial Heritage (TICCIH) holds the information you have given us on your membership application form in order to process and maintain your membership and to promote communication and collaboration among members of the TICCIH throughout the world.
As a member of TICCIH you receive our quarterly digital publication, the TICCIH Bulletin. In keeping with the European Union General Data Protection Regulation (GDPR), we want to make sure that you are aware that you can opt out of receiving future editions of the Bulletin at any time just by clicking on the 'unsubscribe' link that will be included in all future issues of the Bulletin. We use Constant Contact to distribute the Bulletin; Constant Contact's privacy policy may be found at https://www.constantcontact.com/legal/privacy-statement
If you have any further questions relating to your information, TICCIH and/or the GDPR, please do not hesitate to contact us at ticcih@mtu.edu.
Thank you for supporting TICCIH and for your interest in the industrial heritage! 
---
THIS IS THE PERSONAL DATA WE HOLD:
– Name (First and Last)
– Title (e.g. Mr., Mrs., Ms., Dr., Prof., etc.)
– Position and/or Institutional Affiliation
– Email address
– Telephone number (if provided)
– Web site (if provided)
– Location information: Country, City and, where applicable, State/Province
– Field of Interest
– Primary Thematic Sector
---
THIS IS HOW WE USE THE INFORMATION YOU SHARE WITH US:
Email Address
We use your email address to keep in contact with you. This includes: Distribution of our quarterly digital publication, the TICCIH Bulletin, sharing news about industrial heritage around the world, sending membership renewal notices, and facilitating communication among industrial heritage practitioners
We share your email address with other members of TICCIH to facilitate international collaboration to advance the study, preservation, and interpretation of the industrial heritage
Telephone Number
We use your telephone number, if needed, as a secondary method of communication
Web Site
We promote members' web sites to increase their exposure; this is particularly important for museums and other institutional members
Location Information
We use your location information to help foster regional collaboration among members and to target communication that is region specific
Field of Interest & Primary Thematic Sector
We use this information to characterize your specific expertise, experience and interests within industrial heritage; this helps to foster collaboration among members working within particular disciplines and/or pursuing similar subject matter within the broader field of industrial heritage