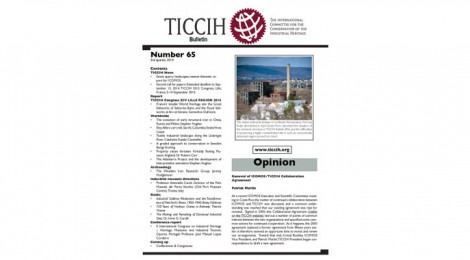 TICCIH Bulletin 65, 3rd quarter, 2014 has been published and sent to all current 2014 TICCIH members on August 7, 2014.
Note to TICCIH members: Not sure if you paid your 2014 dues ? You can check the online TICCIH membership directory for your membership paid status up through the year shown in the parentheses, last updated as of 06/30/14.
Please let us know if you paid your 2014 TICCIH dues but did not receive the link to Bulletin 65. We will send you the link to the Bulletin. Please supply us with the MTU web pay or paypal UK 2014 dues payment transaction number and date of transaction so we can track down the missing information. If you paid by direct deposit from your bank account to our bank account, please send the transaction number, total amount paid, bank and date of the transaction. Please send your transaction information and request to ticcih@mtu.edu.Thank you for your membership and support of TICCIH.
---
Number 65
3rd quarter, 2014
Contents
TICCIH News
Stone quarry landscapes: newest thematic report for ICOMOS
Second call for papers: Extended deadline to September 15, 2014. TICCIH 2015 Congress, Lille, France; 5-14 September 2015
Report
TICCIH Congress XIV LILLE REGION 2015 
France's 'double' World Heritage site: the Great Saltworks of Salins-les-Bains and the Royal Saltworks at Arc-et-Senans: Geneviève Dufresne
Worldwide
The evolution of early structural iron in China, Russia and Wales: Stephen Hughes
Eloy Alfaro cart mill, Sarchí, Colombia: Ileana Vives Luque
Textile industrial landscape along the Llobregat River, Catalonia: Eusebi Casanelles
A graded approach to conservation in Sweden: Bengt Norling
Property values threaten Kirkaldy Testing Museum, England: Dr Robert Carr
The Atlanterra Project and the development of interpretative animation: Stephen Hughes
Archaeology
The Wealden Iron Research Group: Jeremy Hodgkinson
Industrial museum directions
Professor Antonella Caroli, Director of the Polo Museale del Porto Vecchio (Old Port Museum Centre), Trieste, Italy
Books 
Industrial Sublime: Modernism and the Transformation of New York's Rivers, 1900-1940: Betsy Fahlman
750 Years of Harbour Cranes in Antwerp: Patrick Viaene
The Making and Remaking of Dismissed Industrial Sites: Dr. Irene G. Curulli
Conference report
II International Congress on Industrial Heritage – Heritage, Museums and Industrial Tourism, Oporto, Portugal: Professor José Manuel Lopes Cordeiro
Coming up
Conferences & Congresses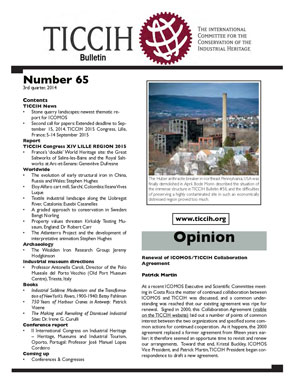 Select on image above to read cover page and back page pdf