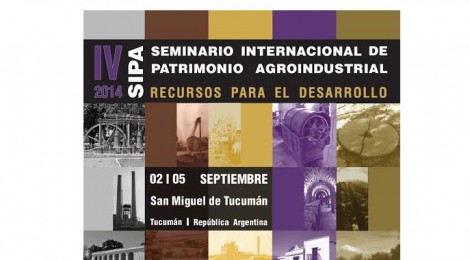 The Institute of History and Heritage of the Faculty of Architecture and Urbanism of the National University of Tucumán is pleased to invite you to participate in the 4th International Seminar on Agro Heritage (SIPA) to be held between the 02 and September 5, 2014 San Miguel de Tucuman, Argentina.
---
The International Seminars on Agro- Industrial Heritage (SIPA) originated in 2006 during a scientific meeting held in Salta, Argentina after two years of work. The founding members of SIPA come from Universidad Nacional de Tucumán, Universidad de Mendoza y Universidad de São Paulo. After the meetings in Mendoza (Argentina, 2008), São Carlos (São Paulo state, Brazil 2010) and Régua (Alto Douro wine region, Portugal 2012), the fourth SIPA returns to Argentina and will take place in San Miguel de Tucumán from 02 to 05 September 2014.
SIPAs are defined as a movement of Latin American scholars, teachers and researchers, as well as governmental and non- governmental technical staff, students and general public, whose main focus is on the interdisciplinary value, promotion and protection of industrial heritage, focusing on agro-industrial heritage. SIPAs also form discussion forums where theoretical thinking and practice meet. These debates have subsequently benefited academic, professional and management areas at generating public policies regarding heritage.
SIPAs' greatest strength is an established and extensive network of people and institutions with the joint aim of examining the problems threatening agro- industrial landscapes. Its legacy is reflected on the actions resulting from each event, increasingly demanded, where sustainable proposals are developed along with site assessment and recovery methodologies, e.g. the value of labor workers. The headquarters of SIPA are not fixed and vary according to the Seminars.
and download the List of Approved Abstracts 
Application Form and other information:
http://www.fau.unt.edu.ar/novedades/4-seminario-internacional-de-patrimonio-agroindustrial-tercera-circular/
The San Pablo (MHN) 
is one of the sites to be visited during the 
4th International Seminar on Heritage Agroindustrial