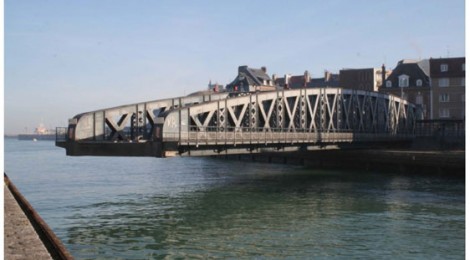 INDUSTRIAL HERITAGE ALERT – Dieppe, France – Pont Colbert (Colbert swing bridge) will shortly be demolished and replaced
For the last six years now the Colbert swing bridge preservation committee "Comité de sauvegarde du Pont Colbert" has fought to save this outstanding and unique "Eiffel style" 19th century heritage from being dismantled. It now appears that this bridge will shortly be demolished and replaced. Moreover, the local Harbour Region Authorities totally ignore every question and notification from many French and international heritage societies. The preservation committee has filed the Colbert bridge to be listed as a National heritage, and the French ministry of Culture have been informed.
---
---
 TICCIH Supports and Urges the French Minister of Culture to preserve the Colbert Bridge.
Please write or contact the French Minister of Culture to show your support:
Madame Fleur Pellerin
Ministre de la Culture et de la Communication
3, rue de Valois
75033 Paris Cedex 01
FRANCE
---
For more information about how you can help save this historic bridge contact:
Pascal STEFANI
Président
Comité de Sauvegarde du Pont Colbert
14 rue Notre Dame – 76200 Dieppe
Mob:   +33 686 160 069 –  courriel: pontcolbert@gmail.com
Pour nous soutenir, c'est là: http://www.pontcolbert.fr/produit/cotisation-2015-membre-bienfaiteur/
---
TICCIH President's Letter of Support
Click on image to read letter
---