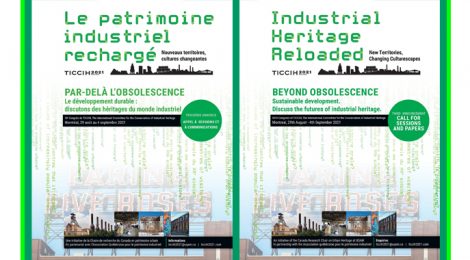 18 Congrés de TICCIH, Montréal, 29 août au 4 septembre 2021 / XVIII Congress of TICCIH, Montreal, 29 August – 4 September 2021
L'échéance de l'appel à sessions est le 1er septembre 2020 / The deadline for the call for sessions is 1 September 2020
L'échéance de l'appel à communications est le 31 octobre 2020 / The deadline for the call for papers is 15 January 2021
La Chaire de recherche du Canada en patrimoine urbain de l'Université du Québec à Montréal, en collaboration avec l'Association québécoise pour le patrimoine industriel et avec le soutien de Tourisme Montréal, accueillera à Montréal le Congrès Le patrimoine industriel rechargé, du 29 août au 4 septembre, 2021.
The Canada Research Chair in Urban Heritage of Université du Québec à Montréal, in collaboration with the Association québécoise pour le patrimoine industriel (Quebec association for industrial heritage) and with the support of Tourisme Montréal, will be hosting the Congress Industrial Heritage Reloaded, in Montreal, from August 29th to September 4th, 2021.
Afin d'enrichir les échanges scientifiques, de favoriser la découverte de la scène patrimoniale et urbaine de Montréal et de susciter de nouveaux partenariats de recherche et de formation en matière de patrimoine industriel, les six journées du congrès sont assorties de nombreuses activités d'exploration et de dialogue dans des domaines variés liés aux corpus des études patrimoniales tels que l'architecture, l'aménagement, la gastronomie, la musique, le cinéma, etc. S'ajoutent à ces occasions celle d'entendre des conférenciers réputés. Visitez régulièrement ticcih2021.com pour plus de détails.
In order to enrich scientific discussions, to promote the discovery of Montreal's urban and cultural environment and its particular challenges in the field of heritage, and to support new partnership in research and training, the five days of the conference include numerous activities of inquiry and dialog in various areas linked to industrial heritage, as architecture, urban planning, gastronomy, music, cinema, etc. Well-known guest speakers will also be heard. Visit ticcih2021.com regularly
for more details.
Argumentaire et Thematiques du Congres / Topic and Themes
Plus que jamais, l'héritage de l'industrie est à l'avant-plan de l'actualité, partout sur la planète et même au-delà. La désindustrialisation, mais aussi le raffinement des connaissances scientifiques et des techniques de production redéfinissent nos rapports avec l'environnement et avec notre histoire. Cet héritage n'est plus seulement constitué de machineries désuètes et de « châteaux de l'industrie » : c'est l'héritage de territoires, de savoirs, de groupes sociaux, de stations spatiales autant que d'installations nucléaires et de maisons ouvrières autant que de complexes sidérurgiques, qui interpellent nos conceptions et nos pratiques. Face aux transformations profondes de l'industrie et de son statut social, politique et économique, le patrimoine industriel soulève des enjeux et offre des possibilités qui vont bien au-delà, dorénavant, de la simple conservation. La transmission du savoir, l'inclusion des personnes et une perspective humaniste renouvelée sur le développement durable sont au rang de ces possibilités du patrimoine industriel qu'il importe maintenant de mettre en discussion.
More than ever, the legacy of industry is at the forefront of current events, across the planet and even beyond. Deindustrialisation, but also the refinement of scientific knowledge and techniques of production are redefining our relationship with the environment and with our history. This legacy is no longer solely made up of obsolete machinery and of "castles of industry": it is the legacy of territories, of knowledge, of social groups, of space stations as much as nuclear facilities and workers' houses, as well as steel complexes, all of which challenge our views and practices. In the face of profound changes in industry and in its social status—both political and economic—industrial heritage raises issues and offers possibilities that go beyond, from this point on, simple conservation. The transmission of knowledge, the inclusion of people and a renewed humanist perspective on sustainable development are among the possibilities of industrial heritage that are now imperative to call into question.
Télécharger l'appel à communications (PDF)