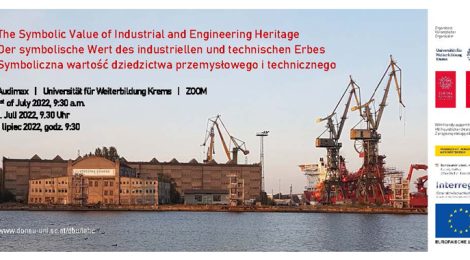 Audimax, University for Continuing Education Krems, Krems an der Donau, Austria
Also Online Via Zoom
1 July 2022
Europa Nostra's Industrial and Engineering Heritage Committee (IEHC) and the Department for Building and Environment at the University for Continuing Education Krems are jointly organizing the conference "The Symbolic Value of Industrial and Engineering Heritage". Among other things, the conference is dedicated to subject-specific topics such as the Gdańsk shipyard, the Titanic, Chernobyl, the Völklingen Ironworks or the South Bohemian ponds.
Contributors and Speakers
Prof. Dr. Piotr Gerber (PL), Dr. Paul Smith (F), Mag. Mag. Dr. Dr. Peter Strasser, LL.M. (AT), Prof. Dr. Christian Hanus (AT), Drs. Rienko Wilton (NL), Dr. Pierre Laconte (BE), Drs. Hildebrand de Boer MA (NL), Dr. Miles Oglethorpe (UK), Jaap Nieweg (NL) u.a.
Presentations in German and English.
The book launch of the publication Industrial and Engineering Heritage in Europe will take place as part of the event.