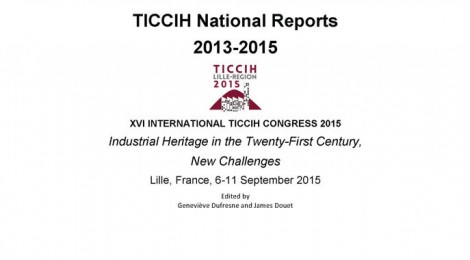 We are very pleased to offer this compilation of National Reports presented on the occasion of our 2015 triennial Congress in France. These reports represent much, if not all, of the breadth of activity, triumphs and, sadly, losses in the field of Industrial
Heritage since our last Congress, in 2013, in Taiwan. From the 30 countries affiliated with TICCIH we listed at the beginning of 2015, 24 responded to the call: that is great and we thank all of the contributors.
This offering represents material from most of the nations where we have active members, and provide them in a new and exciting format. The digital rendering will, we trust, afford a broader spread of information, as well as allowing for greatly expanded
access to information through active links to related material via the Internet. Readers can simply click on many relevant links to access significant amounts of detailed information not possible in a printed format. And while we have strived to distribute our
former printed National Report documents widely, this format should result in greatly improved distribution through simple reference and sharing, as well as access via search engines. We hope this digital book will be a useful tool to conduct research, to
compare, and to discover the constantly evolving and amazing field of Industrial Heritage.
Many thanks to Geneviève Dufresne, CILAC Vice-President and French TICCIH Representative, and James Douet, TICCIH Bulletin Editor, for their tenacity to obtain and to publish this first digital TICCIH National Reports.
Patrick Martin, TICCIH President 2009-2015
Florence Hachez-Leroy, Chair of TICCIH-Lille 2015