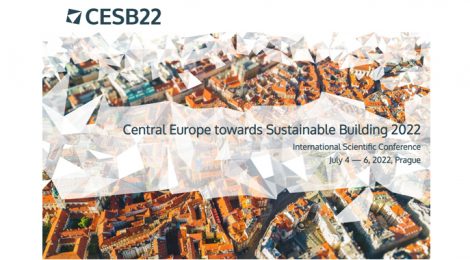 CALL FOR ABSTRACTS –

Deadline 1 June
Central Europe towards Sustainable Building
4 -6 July 2021, Prague, Czech Republic
The Czech Technical University in Prague is happy to announce that the sixth issue of the 
Central Europe towards Sustainable Building (CESB)
 conference will be held on July 4–6, 2022 in historical capital Prague, Czech Republic. The conference will be held under auspices of international conveners CIB, iiSBE, UNEP-SBCI, FIDIC and GABC, and belongs to the Sustainable Built Environment regional conference series leading towards the World Sustainable Built Environment conference on September 26–29, 2023 in Montreal, Canada.
The CESB22 objective is to present current activities in sustainable building with special focus on the Central Europe area, to bring ideas and international expertise to the region to contribute to its further development, and to share new insights arising within the Central Europe in order to enhance sustainable development in local and global scale.
Simultaneously with CESB22, a fourth iiSBE Forum of Young Researchers in Sustainable Building (YRSB22) will take place on 4 July 2022, focusing on actual PhD research in the field of sustainable building and sustainable and resilient built environment.
If you are interested in presenting your work, please submit your abstract of 150–250 words in English electronically using the conference system available at 
https://www.conftool.com/cesb22
 by 1 June 2021