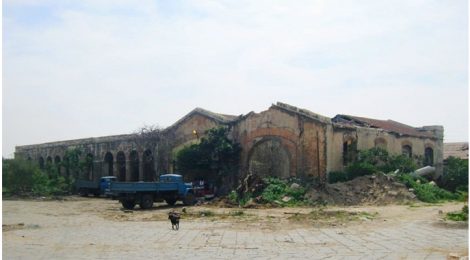 ---
Photo Caption: Qabbarī railway terminus in Alexandria, constructed in 1855 under the supervision of Robert Stephenson and his cousin George Robert. The terminus is designated
as the first witness of the railway industry in Egypt, Africa, and the Middle East. The station is owned currently by the Egyptian National Railways and is
officially not listed or acknowledged until today.
---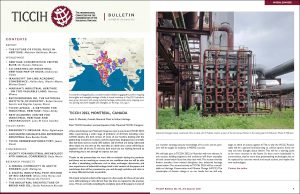 TICCIH Bulletin No. 93 has been published and distributed electronically to all current TICCIH members.
Contents of Bulletin No. 93:
REPORT
THE FUTURE OF FOSSIL FUELS IN HERITAGE: Matthew Bellhouse Moran
WORLDWIDE
HERITAGE CONSERVATION CENTER RUHR: Dr. Roman Hillmann
CO-CREATING AN INDUSTRIAL HERITAGE MAP OF INDIA: Aishwarya Tipnis
IRAN/EGYPTON-LINE ACADEMIC CONFERENCE: Hellen Aziz, Martin Meyer, Mirhan Damir
WARSAW'S INDUSTRIAL HERITAGE – ON TOO VALUABLE LAND: Bartosz Klimas
RECONSIDERING INI, THE NATIONAL INSTITUTE OF INDUSTRY: Rafael García García and Ángeles Layuno Rosas
TICCIH AFRICA – A NETWORK FOR INDUSTRIAL HERITAGE
NEW ACADEMIC CENTER FOR INDUSTRIAL HERITAGE AND ARCHAEOLOGY: Juan M. Cano Sanchiz
TICCIH NEWS
PRESIDENT'S MESSAGE: Miles Oglethorpe
ASOCIACIÓN URUGUAYA DEL PATRIMONIO INDUSTRIAL: Rene Boretto Ovalle
TICCIH MEMBERSHIP DIRECTORY: James Douet
CONFERENCES
SOCIETY FOR INDUSTRIAL ARCHEOLOGY 49th ANNUAL CONFERENCE: Bode Morin
RESEARCH PROJECTS
A MINING COMMUNITY IN ARCTIC SWEDEN: Judit Malmgren
A DIGITAL INDUSTRIAL PATH RECORD OF RIO GRANDE: Olivia Silva Nerya and Maria Leticia Mazzucchi Ferreira
THE INDUSTRIAL ARCHITECTURE OF BREAD AND OIL: Sheila Palomares Alarcón