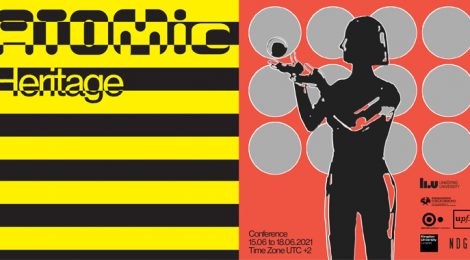 An Atomic Heritage conference will take place online from 15th to 18th of June. Below please find a link to download the conference program, some additional information – and a special invitation.
Conference Program (PDF Download)
Public webinar THE GREAT CHERNOBYL ACCELERATION
The conference starts on Tuesday, June 15 at 18.00 (CEST, UTC/GMT +2, Stockholm) with the online keynote speech given by professor Kate Brown (MIT) and commented by professor Melanie Arndt (Freiburg University). Here you can find the link for the webinar with the automatic registration. The webinar is public and open to everyone:
https://liu-se.zoom.us/webinar/register/WN_y_IVJr75SMyqsbrvlSfjdA
Conference program ATOMIC HERITAGE
The official opening of the conference is on Wednesday, June 16 at 14.30 followed by first panel of speakers. The conference ends with a round table discussion and closing remarks by the project leader professor Anna Storm (Linköping University) on Friday, June 18 by 18.15. All the programmed activities during conference days Wednesday-Thursday-Friday will take place in the ZOOM conference room at the time zone CEST, UTC/GMT +2, Stockholm. Here you can find the ZOOM link: https://liu-se.zoom.us/j/66164125395?pwd=RytrcnZXcWtzaTdLYk5rOW9VVjFzZz09
Special invitation to present your favorite NUCLEAR OBJECT
Speakers in the conference have been asked to bring to their computer screen a favorite nuclear object. It could be a souvenir, a photo, a book, a pair of shoes from a special field trip, a personal radiation detector, cladding from a spent fuel rod – anything. For each conference day there is scheduled ca 30 minutes to a "show and tell" of nuclear objects, answering the questions listed below. Each round will take place before the conference panel starts and will include the speakers and chair of the day.
What is it?
When did it come to you?
Where do you store it?
Who do you show it to?
As a non-presenting participant, you are hereby invited to also present a nuclear object. If you want to do so, please check the program and write a notification to Andrei Stsiapanau with your preferred time slot (andrei.stsiapanau@liu.se).
The conference program as well as the conference poster were designed by Gailė Pranckūnaitė and Mislav Žugaj.
We look very much forward to seeing you online in just two weeks from now!
With warm wishes from the Atomic Heritage team,
Anna Storm, Egle Rindzeviciute, Tatiana Kasperski, Florence Fröhlig and Andrei Stsiapanau