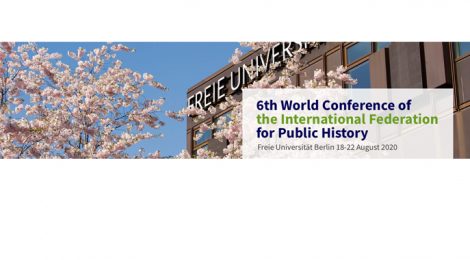 The International Federation for Public History is organizing the 2020 World Conference of Public History. Public history includes the creation, preservation, and communication of the past to large audiences. The conference will take place in Berlin (Germany), August 18-22, 2020.  Below please find links for the Call For Papers and other resources. There has been lots of connection between public history and historic preservation and cultural heritage. The more interdisciplinary the conference will be, the better the discussions will be.
Here are a few links and resources
1 ) You can access the conference website and CfP here: https://www.ifph2020.org
2 ) You can follow the pre-conference discussion on our Facebook closed group and Twitter account.
3 ) For those of you who would like to propose a panel but are not sure about the topic, or for those of you who want to find additional participants to propose a panel, here are two options:
-You can propose an idea on our Facebook closed group 
-You can look (and comment) at ideas of topics shared by other on this Google Document
-You can acquire access (email us to pubhisint@gmail.com) to this very same Google Document to write a few lines to propose an idea of panel.