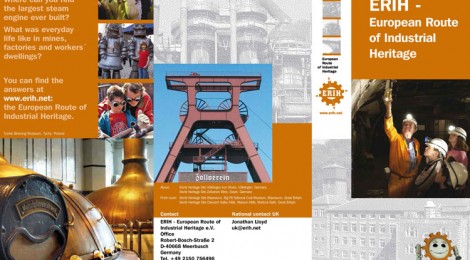 www.erih.net – Fresh look: The new ERIH website is online
Europe's largest tourism network for industrial heritage launched attractive new web portal
The European Route of Industrial Heritage (ERIH) went online with a fresh new website design. ERIH President, Prof. Dr. Meinrad Maria Grewenig, says: "We are proud that visitors to www.erih.net are welcomed by the most comprehensive cultural and tourism inventory of industrial heritage in Europe comprising more than 1.300 sites in 45 countries. The intuitive navigation makes orientation easy and allows targeted searches."
An overview of the industrial heritage sites' geographical distribution is supplied by a map of Europe. Each search can be refined by geographical filters and special features. Alternatively the button 'I want to go there' provides all ERIH sites listed alphabetically by country. The menu option 'How it started' refers to Europe's industrial history and lists biographies of people that played a pivotal role in it.
The website was financed by European funding. From 2014 to 2017 ERIH is supported by the programme Creative Europe Network funding.
"Considering the wealth of information the main challenge for us was to build a website that is as clearly structured as possible," says ERIH webmaster Rainer Klenner. "And of course we want to inspire people to browse the site freely," he adds. This is mainly stimulated by enriched illustration features, focussing on the so called Anchor Points that are milestones of European industrial history with lots of attractions for visitors.
"Our aim is to get more and more people to experience and enjoy industrial heritage" explains Prof. Grewenig. "So many people are missing out on this, and this is exactly what the new website wants to change – by inviting visitors on an exciting journey.
About ERIH
During the last 16 years the European Route of Industrial Heritage (ERIH) has become the largest tourism network for industrial heritage in Europe. It currently comprises 1.315 sites in 45 countries. Its backbone is made up of 99 Anchor Points, simultaneously being starting points for 20 Regional Routes. Apart from the geographical structure there are 13 themes – from architecture to textiles – illustrating the breadth of European industrial history. ERIH is registered as an association with a growing number of members (currently more than 200 in 24 European countries). Its objective is to foster a growing awareness of our shared European industrial heritage and to provide tourism knowledge for ERIH sites. Most important in this context is the mutual exchange of experiences in conferences and meetings