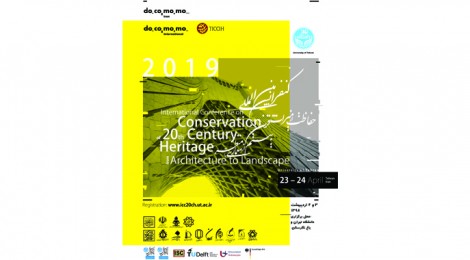 Conservation of 20th Century Heritage from Architecture to Landscape
23 – 24 April, 2019
Negaresten Garden, University of Tehran, Tehran, Iran
icc20ch.ut.ac.ir
---
The International Conference on Conservation of 20th Century Heritage from Architecture to Landscape in Tehran, Iran is an exciting opportunity for the Research Institution of Art and Culture at College of Fine Arts, University of Tehran as we continue to grow, adapt, and remain motivated, responsive and open to new ideas. The invited speakers of this conference are leaders in their respective fields, who shall assist the School of Architecture in providing a platform and opportunity for participants to network, and help this Conference in meeting its aims of creating the right environment for bringing inspired people together, ensuring for our University to remain at the cutting edge.
Similar to many countries influenced by the Modern Movement, modern architecture in Iran began in the late Qajar Period and especially in Pahlavi dynasty, through the return of Iranian architects educated abroad and the arrival of European architects in Iran; making Iran, home to significant number of lasting structures of Iranian and western architects. This has indeed marked the initiation of a similar development trends in Iran. Today, conservation of these important legacies is crucial and their negligence is a threat to their survival. Over the past years, Iranian authorities have also shown significant acts on these concerns, where particular attention has been paid to modern heritage for growing a trend in recognizing and conserving the values of modern built heritage in Iran; through some groups of academics and professionals, establishment of new publications, groups and organizations such as Docomomo_Iran in 2012.
However, obtaining the confirmation of Modernism as heritage by all professional societies and general public remains a great challenge.
You, as experts, have the vision, knowledge, wherewithal and experience in assisting us  pave our way into the future You are truly our greatest asset today I would like to thank you of your attending our conference and look forward to welcoming you in Tehran.
Sincerely Yours
Secretary of ICC20CH Conference 2019
ORGANIZER:

Research Institution of Art and Culture, University of Tehran
Docomomo-Iran