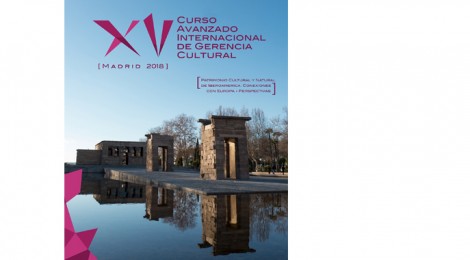 International Advanced Course on Cultural Management
Course Description/Schedule (English)
---
The training program INTERNATIONAL ADVANCED COURSE OF CULTURAL MANAGEMENT (IACCM) is up to its fifteenth edition uninterrupted. It coincides that 2018 will be the European Year of Cultural Heritage and therefore we propose that the central theme of study of the XV Advanced International Course on Cultural Management be the connections and future perspectives of cooperation between Europe and Latin America linked to the cultural and natural heritage.
The Ibero-American Cultural Letter affirms categorically that "we represent a vast group of nations that share roots and the rich heritage of a culture founded on the sum of diverse peoples, bloods and creeds"
The connection we understand it as the union, the link and the continuation of relations that allow us, as the Ibero-American Cultural Letter indicates, "to promote the protection and dissemination of cultural and natural, material and immaterial Ibero-American heritage through cooperation among countries" Being the perspectives, the possible development of common actions that make it possible to continue drawing, for example, new uses of industrial, religious or military heritage promoting sustainable cultural tourism among our peoples.
TARGET AUDIENCE
The XV Advanced International Course on Cultural Management (AICCM) is aimed at managers and cultural workers of the Ibero-American space, tourism professionals, teachers, architects, historians, geographers, archaeologists, engineers, professionals from various areas related to heritage management cultural and natural and any other professional interested in the management of culture and heritage. It is also especially aimed at undergraduate and graduate students in cultural and heritage management, creative economy, cultural industries, cultural and heritage innovation, cultural entrepreneurship and any other area related to the management of culture and heritage.
METHODOLOGY
During the seven (7) days of the course, different pedagogical tools are combined, such as lectures by experts in the field, colloquiums with area specialists, round tables and technical visits to patrimonial and cultural facilities.