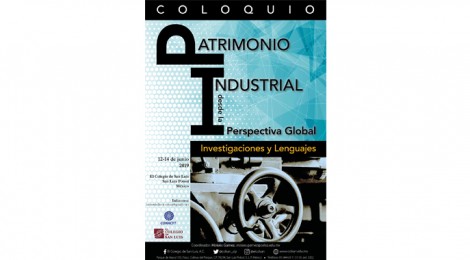 The Colegio de San Luis, A.C. (College of San Luis) invites you to the Colloquium Industrial Heritage from a Global Perspective. Research and Languages, which will take place in the city of San Luis Potosi, Mexico, from June 12 to June 14, 2019.
Follow Links Below for Brochures:
The aim of this forum is to establish itself as an up-to-date benchmark on the progress of research on Industrial Heritage at international level.
Since the 1970s, important papers have been generated that have studied cultural heritage, whose purpose among many, has been the preservation of common heritages. Institutions and academics have contributed to these objectives.
From research, the academic world has addressed different variants on cultural heritage, and for the case that concerns us, on Industrial Heritage. It has produced new knowledge, renewed approaches and languages, both in the academic discourse, in the narrative, as well as in the forms of communication. The task considers as core purpose, to provide foundations for society to be able to carry out plans, actions, and policies aimed at the study, management, recovery, conservation, and dissemination of Industrial Heritage.
In this sense, the fundamental objective of the Colloquium is the creation of spaces for reflection and discussion among academics, researchers, as well as national and foreign specialists, where the different aspects are presented that Industrial Heritage has nowadays through studies and proposals. At the same time, it seeks to encourage the exchange of experiences and information among specialists.
The Colloquium privileges the global perspective, that is, to place studies in debates far beyond the spaces of immediate competence. In this way, we will contribute to interdisciplinary dialog, problematizing the phenomena around Industrial Heritage from the global processes, which include perspectives and analysis of different macroregions. In this regard, it is pertinent to ask: How is Industrial heritage studied in the countries? What are the languages and forms of approach and does one go about them in research on Industrial Heritage? With this methodology, we intend to promote current approaches that identify, study, and communicate similarities, divergences, differences or convergences of studies, for social recognition and valuation of said heritage.
In general, the aim is to offer significant contributions to the area of knowledge based on sound advances, completed projects, and suggestive proposals on Industrial Heritage, with the objective of constituting them as bases for the definition of strategies, plans, policies, and research, management, protection, conservation, and dissemination programs by actors and institutions.